Wishlist Buddy
WishlistBuddy.com is no longer in service, falling victim to an Amazon API change restricting access to lists. If I ever find the time to work on it again, it may come back as a simple Amazon price alert site and get away from being tied to Wishlists.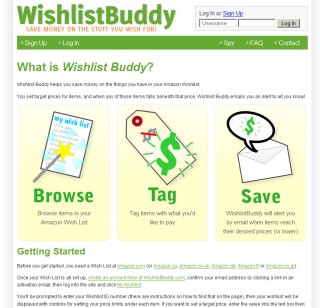 Wishlist Buddy is a site I created so people could save money when shopping for stuff from their Amazon.com Wish Lists.
I've noticed that a lot of the times with books, DVDs and video games, the prices usually start out high and work their way down to less than half price over time. I used to add items to my Amazon Wish List and wait for the prices to drop, but one day I realized "why not make a site to do it for me?" and that's how Wishlist Buddy came into existence.
How it works
Create an Amazon wish list
Throw a bunch of stuff in there you want to get cheap
Go over to Wishlist Buddy, make an account
Tag all the stuff in your wish list with target prices
Sit back and wait for the emails to start rolling in to let you know that the stuff you listed hit your target price.
So if you're using Amazon Wish Lists and want to save a few dollars, go check out WishlistBuddy.com