*UPDATE*
Wishlist Buddy fell on some hard times a few months ago. The code that ran in the background automatically doing price checks and sending emails didn't play nice with a version of PHP5 that my host installed, and I didn't have the time or energy to fix it. I finally sat down and got the site running on all cylinders again and even got the Greasemonkey script working with the revamped Wish List on Amazon.com.
If you know what Wishlist Buddy is, but you're thinking to yourself "Gee, this is a really cool idea, but I don't feel like having to visit another site to update my tags" – this is the thing for you.
If you don't know what Wishlist Buddy is, it's a site I set up to help people get the stuff in their Amazon.com Wish Lists for less money. Books, DVDs and video games usually cost quite a bit on release day and most of the time, the prices fall pretty quickly. What you can do is add an item to your Amazon wish list, and set a price alert for that item at www.wishlistbuddy.com.
In the past, to do this price tagging, you'd have to visit the Wishlist Buddy site. This Greasemonkey script eliminates that trip.
The Wishlist Buddy Greasemonkey Script integrates the Wishlist Buddy price tagging controls right into your Wish List on Amazon.com. You can tag your items with desired prices without leaving your wish list!
How Does it Work?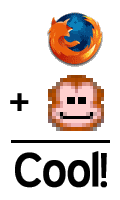 Greasemonkey is a really neat extension Add-on for the Firefox web browser that lets people create scripts that change how web pages look and work.
This script adds a couple controls to the page, and communicates back to Wishlist Buddy to get and save your tagged prices.
I've done quite a few Greasemonkey scripts, and you can find a link to them in the sidebar.
Installation Instructions
If you're not already running Firefox, grab it here:

Install Greasemonkey:
http://greasemonkey.mozdev.org/
Click on the following link and follow the prompts to install the script:
Wishlist Buddy / Amazon Integration Script
Make sure you have an account on Wishlist Buddy and log in before heading over to Amazon.
www.wishlistbuddy.com